Submitted by

admin

on Wed, 10/14/2020 - 18:26
Liveable cities
Published on
October 8, 2020
In pre-COVID times, our urban transport systems were a daily challenge for many Filipinos. COVID-19 disrupted traditional urban systems and made life more difficult for people. Though we all want to open up the economy by allowing at least 50% of workers to return to work, our mass transit systems in Metro Manila, for instance, only allow up to 30% to actually find a ride. Cities need to adapt quickly and more creatively than ever before. Initiatives such as more non-motorized connections, changes to long-standing public transport operations, the creation of new and innovative urban mobility solutions, and even contactless payments systems will all be needed.  Strategic urban mobility planning should meet the ever-changing daily and long-term transportation needs of citizens, the logistics of businesses, and traffic flows, in a way that values accessibility, safety, and greater efficiency. 
In the Liveable Cities Lab on Urban Mobility held last 7 October 2020, presented by Liveable Cities Philippines, League of Cities of the Philippines, and Globe Telecom, has gathered a panel of speakers and technical experts to share their solutions and initiatives on how cities and municipalities can improve urban mobility in light of the COVID pandemic. Speakers include: Catarina Heeckt, Policy Fellow, LSE Cities, London School of Economics and Political Science; Anton Siy, Head of Transport, Pasig City; Arch. Paulo Alcazaren, Environmental Planner and Landscape Architect; and Randy Del Valle, Vice President and General Manager for Retail, Pilipinas Shell Petroleum Corporation.
During the session, Catarina Heeckt discussed the global context and academic perspectives of urban mobility and COVID-19, as well shared her insights on her paper published under LSE on "Mobility for the masses -  rethinking urban accessibility in the aftermath of COVID-19" where she underscored that "If we do not include informal transit operators in COVID-19 recovery efforts, we are missing a crucial opportunity to make these services cleaner, safer, and more efficient while protecting millions of jobs." Likewise, renowned Urban Planner, Paulo Alcazaren, talked on mobility-friendly urban design that fosters pedestrian, non-motorized and alternative modes of transport where he shared different examples locally such as in Iloilo and BGC in Taguig. Anton Siy Head of Pasig City Transport then presented local government initiatives such as cycling, and other alternative solutions for better mobility. Lastly, Randy del Valle, Vice President and General Manager for Retail, of Pilipinas Shell Petroleum Corporation, discussed the trends in mobility in light of COVID-19, and talked about different solutions to address and improve mobility in the Philippines from digitization to services. 
The Lab on Urban Mobility was moderated by Mr. Suite Suarez, Formerly Corporate External Relations, Shell International. The Liveable Cities Lab is held every other Wednesday. The series feature topics to equip city leaders and stakeholders with knowledge and insights to help them best serve their communities. 
The next Liveable Cities Lab Session will focus on Resilience which will be held on October 21, 2020 (Wednesday), 3:00 - 5:00 p.m. Sign up: http://bit.ly/LCCLAB7RESILIENCE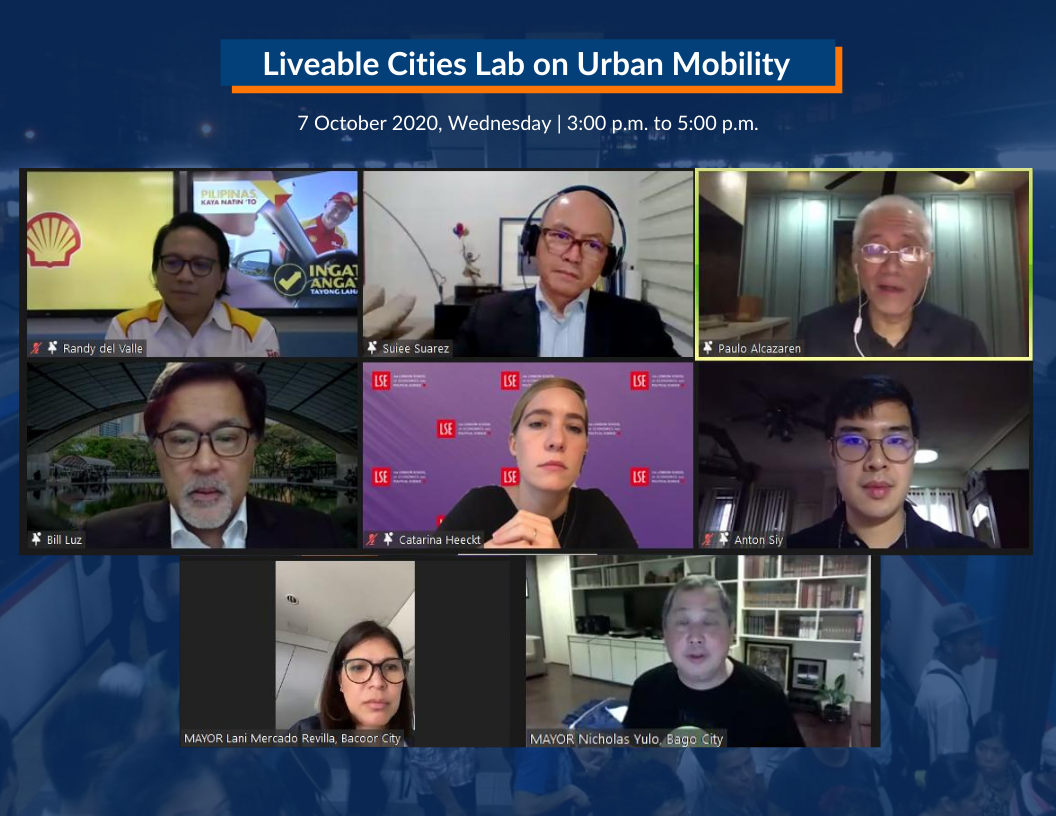 Press Release | Zoom Recording | Facebook Recording | Presentation Materials