Submitted by

admin

on Fri, 10/29/2021 - 12:21
Go Manila: Building the City's First Data Digital Infrastructure
Published on
October 29, 2021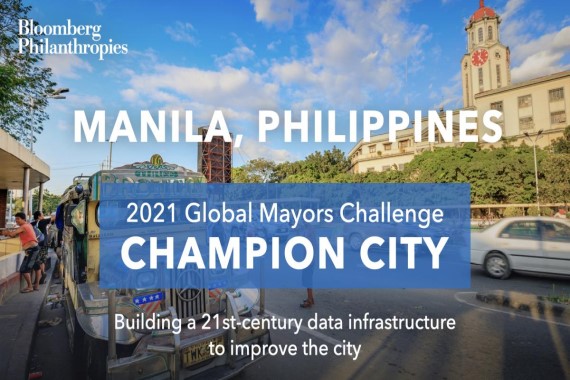 Photo by: Bloomberg Philanthropies
Early this year, Liveable Cities partnered with the Bloomberg Global Mayors Challenge to encourage Philippine cities to participate in this competition. Fifty-two Philippine cities submitted entries and two -- Manila and Butuan -- were eventually selected as Top 50 cities and eligible for the final round where 15 winners will be selected. 
Liveable Cities Challenge congratulates the City of Manila for being selected as one of two cities in the Philippines and Southeast Asia (the other city is Butuan) by Bloomberg Philanthropies in the 2021 Global Mayors Challenge.
Mayor Francisco "Isko Moreno '' Domagoso's GO Manila initiative, a city-wide and data-driven digital infrastructure, has been recognized by Bloomberg as one of the top 50 urban transformative innovations for the Mayors' Challenge ⁠— making the nation's capital a finalist for the Championship phase in this year's competition. As the city advanced to the second phase, Manila was able to test and refine its proposal with technical assistance from Bloomberg Philanthropies' network of international innovation experts from June through October. 
For years, Manila has been struggling to find quantitative and current data - a crucial and integral component in determining and tracking city performance. After its attempt to gather data in 2006 through the "Manila Socio-Economic and Physical Profile" program, there has never been any other serious initiative to solve the underlying challenge of the city's lack of data. Without comprehensive and reliable data, how can its city government fully address and understand the challenges that its 1.8 million Manilenos face every day? 
Photo by: City of Manila
To resolve this, Mayor Isko Moreno proposed Go Manila, the city's first-ever multi-dimensional digital infrastructure designed to upskill city government and uplift its residents in a cross-cutting strategy of improving access to digital education, expediting government and business transactions through contactless city services, increasing disease surveillance, and achieving digital competency by 2023 for the citizens of Manila. This initiative also encourages improved policies and programs that will drive better governance, influence policy-making decisions, and promote transparency in the local government.  
Building this digital ecosystem will not only benefit the city long-term but can also serve as a model for other cities, globally and locally, that identify with the same challenge. 
For the past few months, Liveable Cities Challenge has been encouraging cities and municipalities nationwide to join the Bloomberg Philanthropies Global Mayors Challenge. As we enter the final phase, we are committed to helping our two Philippine cities, Manila and Butuan, earn a spot in the top 15 grand prize winners of the 2021 Global Mayors Challenge.