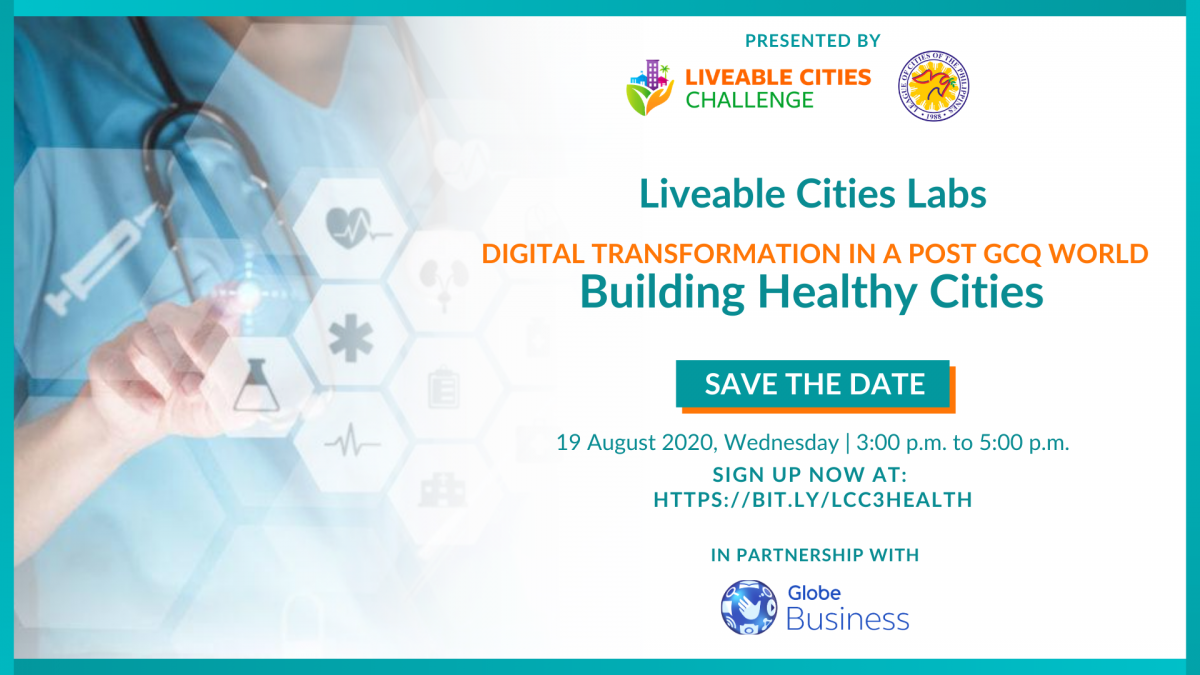 The Liveable Cities Philippines and the League of Cities of the Philippines, in partnership with Globe Telecom, will be holding another session of the Liveable Cities Lab, which will focus on Digital Transformation in a Post-GCQ World: Building Healthy Cities.
In light of the COVID pandemic, the global lockdown has greatly affected cities around the world. Some cities have become epicenters of the pandemic, which intensified the spread and transmission of the virus with their dense population and transport networks. Hence, in line with this, cities play a critical role when it comes to its containment and response.
In order to gear us with information on how we can address these challenges in the new normal, the lab will discuss the best practices and sharing of experiences from experts on how can the city and its people can work together to strengthen its community-based health services throughout the pandemic, and to move to recovery and beyond to fully create healthy and resilient cities. Likewise, the webinar will also underscore how new solutions through the use of innovation and technology can help in beating the pandemic.
Speakers for this session will include Ms. Sacha Bootsma, Technical Officer on Health Emergencies of World Health Organization; Dr. Eric Tayag, Director of Knowledge Management and Information Technology Service of Department of Health; Glenn Estrella, Entrepreneur in Residence of 917 Ventures/KonsultaMD; and Dr. Gia Sison, Head of Women's Wellness Center of Makati Medical Center.
The Liveable Cities Labs is a series of webinar sessions to gear up cities with knowledge and insights for designing better solutions for their communities.  
The third Liveable Cities Lab on Building Healthy Cities will be on 19 August 2020 (Wednesday), 3:00 - 5:00 p.m. Sign up now! https://bit.ly/LCC3HEALTH
Should you have any questions/inquiries regarding this event please feel free to email us at admin@liveablecities.ph